Winter Solstice – a frosty afternoon, fresh thick blanket snow, and a long snowshoe in the deep woods with our husky. We return to our cozy cottage to gather around the woodstove and celebrate the darkest day of the year with dinner, friends, and a warm beverage. True story.
And what better beverage than mulled wine – it's a celebration of festive spices that tastes like the holidays in a glass!
Mulled wines have a long history. In medieval times these wines were called Hipocris, named after the Greek physician Hippocrates. They were thought to be very healthy and, at the time, far more sanitary than water. These heated drinks probably did keep people healthy through the cold winters.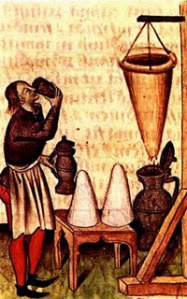 If you are a typically hot person (pitta constitution) you may find mulled wine too warming on your digestive system, but for colder constitutions, mulled wine warms the body and the spirits like nothing else!
It's a great way to cover up the taste of cheap wine too ;).
There are so many potential recipes for mulled wine. The Germans call their version gluhwein; the French, vin chaud, and the Italians call their mulled wine vin brule. Glogg, is the name shared by Sweden, Finland, Denmark, Norway, and Iceland who all share the same taste for wine, sugar, and spices, but add different types of liquors to it.
I haven't tried many mulled wine recipes, but I think this one is pretty tasty. The chamomile (one of my all-time favourite herbs) adds nice flavour and is helpful for relaxation. Trouble sleeping? A glass of this wine before bed-time should certainly do the trick! Sick? This wine should warm you up, ease your cough, and get some rest. Want a tasty drink? Voila!
Ingredients
1 bottle of red wine
1 organic orange
2 cinnamon sticks
6-10 cloves
A slice of ginger
1/4 – 1/2 cup of honey or sugar
1-2 tbls of loose chamomile or a chamomile tea bag (optional)
Instructions