Forged out of a desire to consume less and be more self-reliant, Radical Homestead founders Corrie and Ron decided to challenge themselves one year to learn a new skill every week. In the garden, kitchen, and wilderness, Corrie and Ron set forth filling every spare minute of their days reading, attending workshops, but most of all doing. From kimchi to beekeeping, this experience transformed them – deepening their connection with the Earth, their food, and enhancing relationships with friends and family. Years later they continue to learn and do as much as they can in their daily lives.
Excited by what they learned, Corrie and Ron became eager to share their knowledge and experience with anyone that was interested, giving free workshops for Transition Ottawa and Resilient Kitchen, and helping their family and friends transform their own households.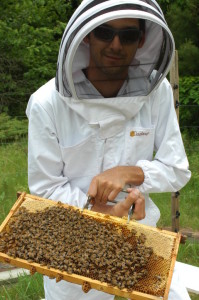 Corrie has studied herbalism as a student and in her daily life for a number of years. She uses medicinal and edible plants for food, medicine, and cosmetics. She holds a Certificate in the Science & Art of Herbalism from Sage Mountain Herbal Retreat Centre. Having learned how to cook as a young teenager, Corrie is a master in the kitchen and quickly picked up on the art of fermentation, breadmaking, and other kitchen skills. She is currently studying nutrition at the Institute of Holistic Nutrition. Corrie is also a seasoned gardener and co-founder of the Overbrook Community Garden.
Ron became interested in beekeeping from a coworker and shadowed him and another beekeeper for a couple of years before purchasing his own hives. Our bees are currently kept at the Just Food farm site in Blackburn Hamlet, Ottawa where they forage off a huge variety of wildflowers and the delicious vegetables that the farmers are growing. Ron is also passionate about homebrewing beer and mead and regularly meets up with other beer enthusiasts to impress them with his latest creations.
Ron and Corrie are also very interested in permaculture and apply permaculture design to their cottage and household. Ron holds a Permaculture Design Certificate (PDC) from the Permaculture Institute of Eastern Ontario. Corrie and Ron are members of Transition Ottawa and encourage everyone they meet to participate in improving their community on some level.
Last, but not least, Corrie and Ron are proud parents of two rescue dogs, Freckles and Willa, who you may meet at one of our events, at the Just Food Farm Stand, or hanging out in the bee yard.