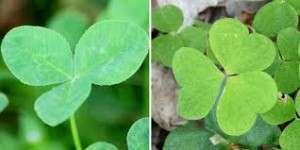 Ah wood sorrel – it's tangy flavor is deliciously refreshing on a hot humid day!
Wood Sorrel is commonly mistaken for a clover because it has three leaves. But unlike clover whose leaves are "ovalish," wood sorrel's leaves are heart shaped. The famous shamrock belongs to this group of plants, not clover like most people think.
Wood Sorrel grows throughout most of North America and you can usually find it growing in your lawn during most of the summer months. There are a couple of different species in this genus (Oxalis), but here in Ottawa we usually are dealing with Oxalis stricta – the one with the yellow flowers. As far as I have read there are no poisonous lookalikes, but as always when harvesting wild edible or medicinal plants, be sure that you are 100% sure you know what you are picking. Use at least resources and even when you are sure you know what it is, try consuming a little bit first to see how you react to the plant.
Harvesting
When you harvest the leaves be sure to pull them off their stems which can be a bit tough (I always use this type of work and an excuse to watch a little TV). Wood Sorrel grows in abundance so harvest freely. In fact, it grows in such abundance in my cottage garden that I am constantly pulling it out. Watch out because it seems crickets love to hide in it!
Medicinal and Culinary Uses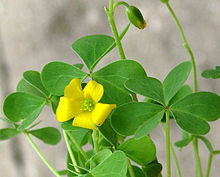 As mentioned, this lovely little plant is a member of the genus Oxalis, which is one of its common names. Oxalis literally means "sour" and is named as such due to its oxalic acid content.  Many domesticated vegetables, including spinach contain oxalic acid, which is considered toxic when consumed in large quantities. However, oxalic acid is not considered a problem when consumed moderately and with a varied diet, although people with gout, rheumatism and kidney stones should avoid it.
Wood Sorrel is rich in Vitamin C and historically, it was used to treat scurvy, fevers, urinary infections, mouth sores, nausea and sore throats. Its lemony leaves and flowers are great to nibble on those hot summer days (sour foods tend to have a cooling effect on the body). Kids seem to be very impressed by them!
The leaves and flowers can be added to salads, soups, sauces, or used as a seasoning. They can also be steeped in boiling water for 5-10 minutes and then sweetened and chilled to make a refreshing drink similar to lemonade. Check out this drink – Wood Sorrel Gin Smash – holy moly – can't wait to try this!
Wood Sorrel Pesto
Ingredients:
3 cups fresh wood sorrel
1-3 clove garlic
1/2 cup walnuts (soak them for 1 hour first for a creamier texture)
1/8 tsp salt
1/4 cup olive oil
1/4 cup of nutritional yeast or grated Parmesan cheese
Amounts in this recipe can be adjusted according to taste.  Enjoy!
Directions:
1. Place wood sorrel, garlic, walnuts, and salt into a food processor and blend until fine.
2. Add oil. Blend until smooth.
3. Add nutritional yeast or cheese.  Pulse briefly until incorporated.
This pesto is so fresh tasting and can be used on pasta, as a spread on sandwiches, or for dipping. Enjoy!