'Let your food be your medicine and your medicine, your food' - Hippocrates
Kitchari is a simple dish made of rice, beans, and spices. It is a mainstay of Indian cuisine, often referred to as "soul food" for good reason – it is highly nutritious while being very gentle on the digestive system. It is warm, rich, hearty, and grounding. It has been used in Ayurveda medicine to help heal the body for centuries.
But we love kitchari for reasons beyond its effects on the body. What we love about it is that it is super easy to make and its main ingredients – rice, beans, and spices – are great food storage items.
In fact, having just a 5 gallon bucket of beans and a 5 gallon bucket of rice will provide 44 days of 'survival' calories. That's a month and a half worth of food!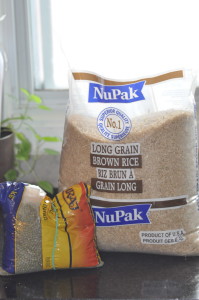 Now we could write a whole lot about why having some stored food is important, but here are a few good reasons:
Natural disasters.  The average supermarket only has about 3 to 4 days worth of food stock. Although in Ottawa we are safe from hurricanes and volcanoes we still could be hit with a severe ice storm, earthquakes, tornadoes, or a massive power outage.
Economic crises. While some fret about bank shutdowns and stock market crashes a much more common potential could be your own economic crises like a job loss or an illness in the family!
Health reasons. It helps to have healthy food always on hand.
Save money. It's cheaper to buy in bulk and saves you trips to the grocery store. You will spend less time at the supermarket and burn less fossil fuels.
Think of food storage as an insurance policy. Rice is rich in starch and an excellent source of energy. Beans are rich in protein and other minerals. When you consume the two together they provide all the essential amino acids. The spices in kitchari have also have medicinal benefits – turmeric is an anti-inflammatory, cumin is an anti-oxidant and helps digestion, and cinnamon helps stabilize blood sugar. It is no wonder that this combination is a staple of many diets throughout the world!
You can also sprout the beans and rice in a long-term emergency, providing your family with much needed greens.
Now, an important tenant of food storage is to store what you eat, and eat what you store. Sure you can go out and buy 10 lbs of beans and forget about them, but in order to maintain optimal nutrition value and overall quality, it is important to cycle through these items and replenish your stores periodically. It will really help to know how to actually use the foods you store (before an emergency) in recipes you already enjoy eating. Learning how to cook new foods might not be ideal while dealing with a crisis.
We eat kitchari regularly. It is so versatile and can be made using different types and combinations of rice, beans, and spices. Here is one recipe that we love, but don't let it limit you.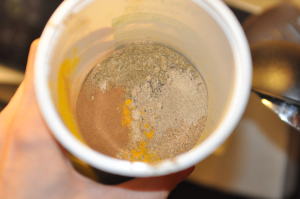 Ingredients:
1 cup brown basmati rice
1/2 cup mung beans (you can use lentils or another bean)
2 1/2 cups water
2-4 tbls coconut oil or other oil
1 onion
1-2 cloves garlic
1 tbls turmeric
1/2 tbls cumin
1 tsp cinnamon
1 tsp ground cardamom
1/2 tsp ground pepper
1/2 tsp salt
fresh cilantro
Instructions
 Measure out and inspect mung beans to ensure that they are free of any debris.
Place in a bowl, cover with water and soak overnight.

Strain the beans and rinse them.
Place the beans, rice, and water in a pot. Bring to a boil
Reduce heat to low and let it simmer for 25-30 minutes or until the water is absorbed.

Remove from heat and place aside.
Heat oil in a large pan.
Add onions and saute until translucent.

Add garlic and spices and saute for about 1 min.

Add the cooked rice and mung beans. Mix in cilantro. Mix until well combined.

Voila! That's it. So easy and fast. The variations are endless so go ahead and experiment.