SOLD OUT for 2018
Contact ron@radicalhomestead.ca to be added to our waiting list or to pre-register for 2019.
Gotta bug for beekeeping?
Join Radical Homestead for a full season of hands-on beekeeping. Our program offers tons of hands-on learning to take you from the sidelines to become a competent and confident beekeeper.  Our program includes:
6 structured classes (30+ hours, mostly in the bee yard) throughout the season
Weekly evening or weekend hands-on sessions with the bees (optional)
Beekeeping manual and handouts included
Small class size for an intimate experience with the bees, one-on-one instructor attention, and community building with fellow students
Tailored instruction and ongoing support in-person, telephone, and/or email
Ideal for those wanting to start keeping bees this year or next
Convenient options to purchase bees
Program outline
Day 1 – Bees and Beekeeping Basics – April
Day 2 – Getting Started and Spring Management – May
Bonus – Hands-On Field Days – May through September
Day 3 – Swarms and Swarm Management – June
Day 4 – Honey Harvest and Processing – July
Day 5 – One on One Personalized Hive Inspection Training – August
Day 6 – Fall management, feeding, treatment options, winter preparation – September
Day 7 – Winter Is Coming! Hive wraps, processing wax, candles and salves – October
Times and location
Classes are held about once a month on Fridays or Saturdays from 10:00 AM to 4:00 PM at the Just Food Farm in Blackburn Hamlet.
Additional hands-on training during evenings and weekends.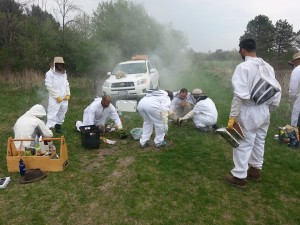 Day 1 introductory class will be held at our home near the Rideau Tennis Club and half of Day 7 will be at a nearby location for the candle making workshop.
All sites are accessible via public transportation. Carpooling can be arranged upon request.
More…
Honey tastings including honeys from around the world
Take home honey sample extracted from the year's harvest
Special guests (guest mentors, candle makers, etc.)
A visit to student's current or future apiary (within reasonable travel) where the instructor will advise on the design of their potential bee yard or help with specified beekeeping tasks
Don't have land? Participants who have completed this program may have the opportunity to care for several hives at our site under our guidance the following years.
Who should take this program?
This program is designed for beginners, new beekeepers, or anyone who want to learn more about bees, beekeeping, and gain experience in the bee yard.
The program will include a mix of assigned readings, in-class learning, discussion, and lots of hands-on learning.
A variety of hive types and equipment are used to demonstrate different management styles. Natural and low-tech methods, and integrated pest management will be the focus.
Engaged students should gain enough knowledge and experience to manage their own bees with confidence.
Requirements
Participants are expected to have a serious interest in beekeeping and have already done some of their own research leading up to the course.
Lunch is not provided. Students should pack a lunch and water. A grocery store and several fast food services are within a 10 minute drive from the apiary.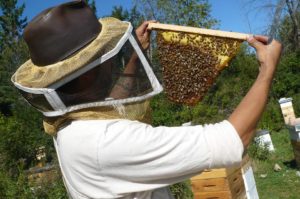 Participants are expected to have their own bee suit/veil. Veils are available on loan. Options will be discussed and demonstrated on Day 1 so you can determine what suits you best.
For biosecurity reasons, tools and gloves will be provided. If you wish to have your own designated gloves, you can purchase your own but they must remain on site.
Epipens and allergy medications are encouraged to have on hand.
Participants do not need to have their own bee hives. Some students choose to get hives individually or as a group with other students while participating in this program.
Program Cost
Program sold out for 2018.
Work Exchange Opportunities
Work can be done (around the bee yard, in the honey house, at the market, or during public demonstrations) in exchange for partially reduced program fees or take home honey.
Please note that helping with bee hive inspections and maintenance is not included as work exchange unless we explicitly ask. The work exchange is designed to help those with less financial freedom.
Registration

(SOLD OUT for 2018)



Contact ron@radicalhomestead.ca for the full detailed program outline and registration or for private instruction.
A $100 deposit will be required to secure your spot. This program fills up fast!
Looking forward to seeing you in the bee yard.
Ron and Corrie